Stock Feed Supply's & Agricultural Contracting
Lucerne, Meadow, Ryegrass, Barley Straw, Clover Tailings, Meadow and Lucerne Balage,

Agricultural Contracting - Canterbury Wide

Baling - Conventional - Medium squares & Bale Wrapping Service team
Providing sales and competitive price that is the best value for your money! For transport to both the South and North Island, as well as Hay & Balage services for throughout the Canterbury region.
Best descriptions of the product you purchase as it is well inspected by us to supply our customers a good product .What you purchase is what turns up on your truck . Organising pick up to delivery anywhere in NZ .
We supply hay for:Events, Partys,Weddings, car rallys A&P shows and even Straw houses !
Agricultural Contracting - Canterbury wide
Baling - Conventional- Medium squares Bale Wrapping Service team.
Our highly experienced operators use some of the latest technology and machinery out
High quality is our goal and producing a good product for our clients .
Agricultural contracting
For a wide range of agricultural services.
Small to big or first time farm owners for expert advice for baling and silage needs + more
Services Include:
Conventional baling operating a Case SBX540 high denisty baler (Small bales)
Conventional bale wrapping weights from 22 to 60 kg
Medium square baling operating New Holland high density balers with options of chopping hay or grass also inoculate in a liquid form
Individual bale wrapping using only the best quality wrap. with our kverneland fast wrap twin satalite wrapper.
Mowing using our new kuhn and JD mowers 3m - 9m cutting width
Raking with Taege V rakes working width capable up to 9 meters,also operating Vicon twin swather rotor rake working width 8.5 M also Claas 4 rotor rake up to 12m width
Bale stacking & bale cartage incuding stacking small or big into shed.
Heavy Transport services
Post driving
Hedge trimming / shelterbelt tree topping reach up to 6-8m
Hedge clean up service using our large tipping trailer and 3m wide forks makes work a breeze
Driveway maintenance / Farm tracks
Digger operations - site scrapes - drainage
Earthworks 6-16 ton diggers available also bulk tippers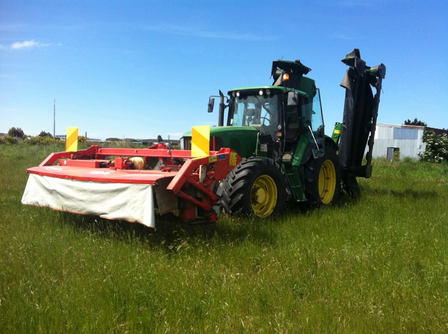 All enquiries welcome